Marc Chagall is a prominent representative of the artistic avant-garde of the 20th century. After his life, the painter left the richest collection of works of art which include works of visual art, mosaics, stained glass windows.
"Walk" is one of the most recognizable works of Chagall. The painter's works are very autobiographical, and, like the other two works of the triptych, the painting depicts the author himself and his wife Bella Rosenfeld. The work is metaphorical: the flight symbolizes the desire to convey the inspiring feeling of being in love, to escape from everyday life and the difficult time in which the picture was created.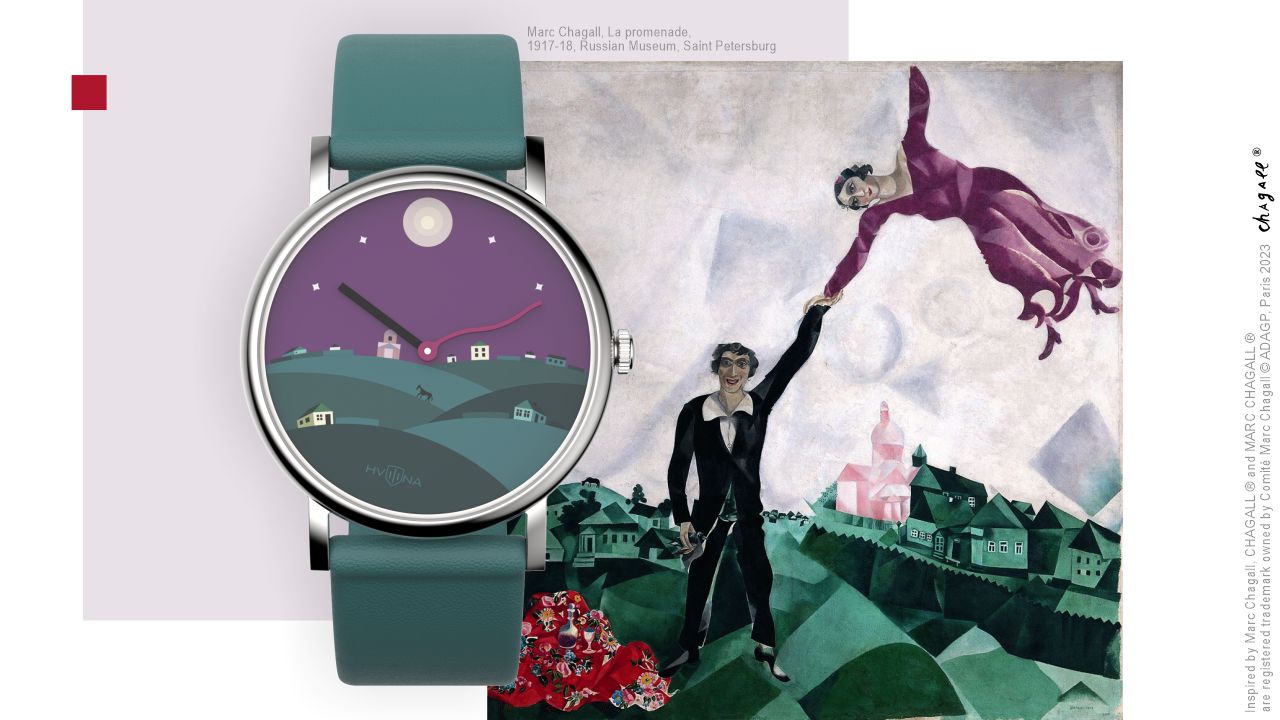 Being in line with the general concept of the work, two beginnings – heaven and earth – are painted with a magnificent contrast. The green squares of the earth with a pile of small houses are balanced by mother-of-pearl, almost cloudless sky. The stylization of this technique can be seen in the watch face. The lower part of it depicts the stylization of the city of Vitebsk from the master's painting while the upper part depicts cloudless night (in this model) sky. The hands of the watch symbolize the characters from the painting. The colours of the arrows match the primary colours of the characters' clothes. The shape of the arrows has also been developed thoroughly: a larger hour hand symbolizes a man while the wavy, refined one symbolizes a woman. Together, they create a perfect combination, complementing each other.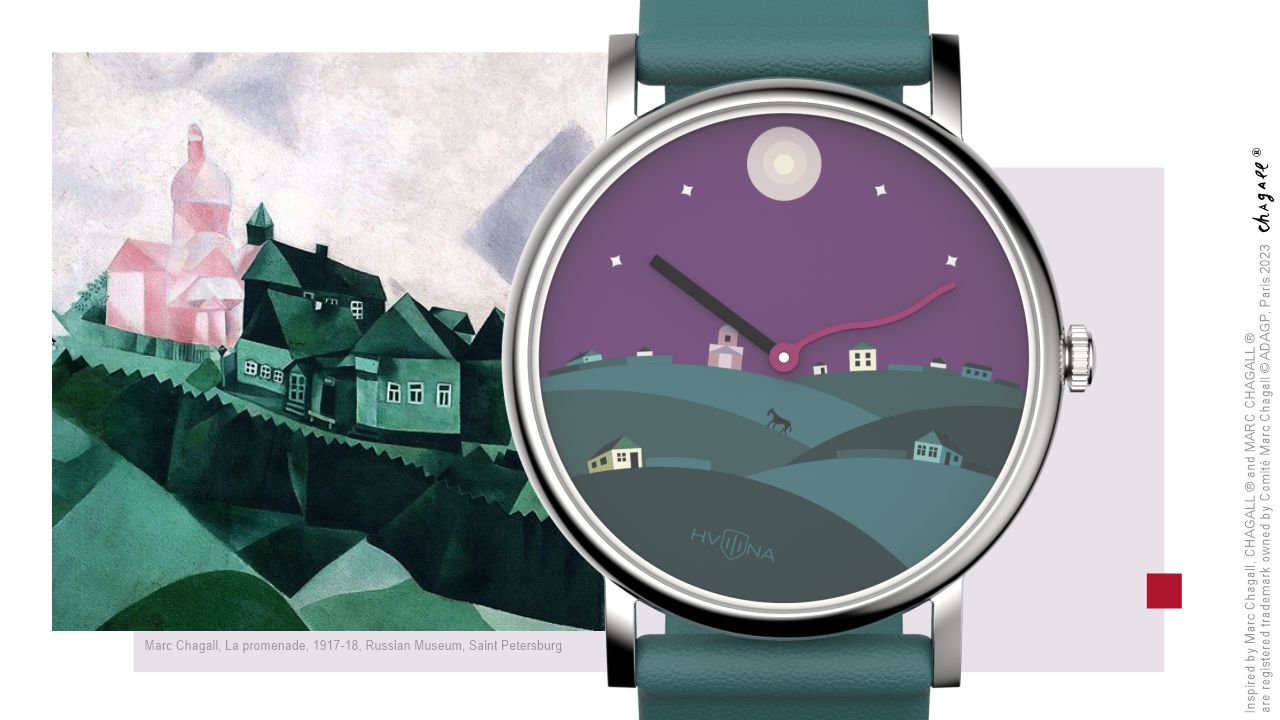 One of the key features of this work is encapsulating the meaning of the expression "Better a tomtit in your hand than a crane in the sky". The creator suggests that we should not choose: in the picture, a man standing firmly on the ground holds his winged beloved firmly with one hand and a small bird in the other. This detail can also be seen in our watches: the hands represent the characters of the work while a bird is emblematically depicted on the back cover of the watch.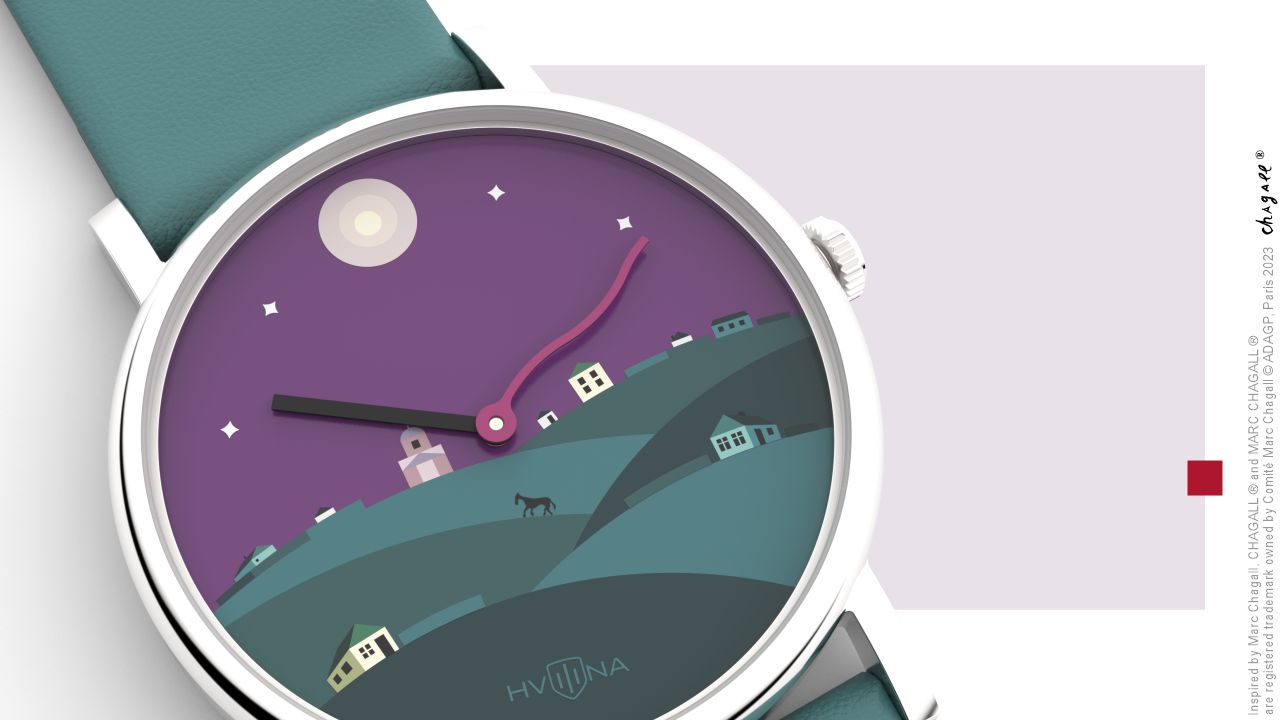 The timeline display in the form of a stylized sun and stars is located at the top of the dial, in the sky. This model is made in two colour combinations, symbolizing the day and nighttime.
We were inspired to create La Promenade La Nuit by the process of getting acquainted with Chagall's work and with "Walk", in particular. The romantic and dreamy mood that the painting creates has also contributed to it. The moon on the dark purple sky immerses in the magic of the evening promenade.
The stainless steel case, reliable Swiss quartz movement and natural leather strap are designed to provide maximum comfort in using the accessory. The model is equipped with sapphire crystal.
The box is made in the form of a stretcher with a baguette, turning the watch into a finished work.